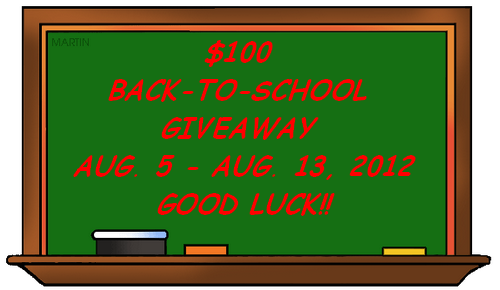 **This give away is hosted by**
This is a giveaway for a $100 PayPal Cash – and open to US residents ONLY!! We are looking for
bloggers to join us
(must have at least
2000
facebook followers
)
Blogger Sign Up will start July 31st and closes on August 3rd, 2012 @ 11:59 p.m. EST. You will Receive 2 links of your choice Facebook/Twitter whatever, with announcement post of this "Blogger Sign Up Event" or pay a fee of $2.00 if you do not wish to post the announcement.
Bloggers Sign Up Here!
GIVEAWAY: $100 Back-To-School Paypal Cash. This is open to US RESIDENTS ONLY The Giveaway goes Live on August 5th at 12:01 a.m. EST through August 13th, 2012. EST (you must have posted at 12:01 a.m. August 5th or will be deleted from the RC) The HTML code will be sent out on August 4th, 2012 on the same email that you used to sign up for the event and it will also be posted to the group file section.
Requirements:
Once the Giveaway is Live promote at least once per day.
You will need to post link in FB group so we can verify post is up
You must have a blog/website where you can publish the giveaway text and rafflecopter code to participate.
Sign up now by clicking HERE!!